Boating and Personal Watercraft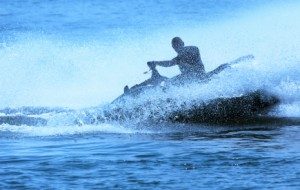 Our boat and personal watercraft accident attorneys are skilled and experienced in recovering damages for victims of boating related injuries.
Private Boat Accidents
The owner or operator of sailboats, motorboats, or fishing boats have absolute responsibility for the safety of those on board. The decision to take a group of friends out in rough water may result in serious injury when large waves jostle passengers. Negligent operation may result in collisions with other boats or fixed objects, which commonly lead to serious injury or death when occupants fall or get tossed overboard, or sustain impact related trauma.
Personal Watercraft Accidents
Built for speed and intended for fun, Jet Skis, Wave Runners and other recreational watercraft are inherently dangerous. The vehicles do not have brakes and cannot be reliably steered when the operator lets go of the throttle – a natural operator reaction when confronted by a sudden emergency. The attorneys at Juneau, Boll & Stacy, PLLC have handled many jet ski accidents involving collisions with other persons or watercraft, passengers thrown off or struck when their PWC flips and lands on top of them, swimmers run over, or operators crashing into obstacles.
Diving and Swimming Accidents
Scuba divers and swimmers are at great peril in crowded waters. Life-threatening injuries and drowning deaths often result when they are struck by boat propellers or run over by other watercraft. Dive flags on the surface are always recommended to alert boaters, but unfortunately these precautions do not always prevent tragic injuries.
Drunk Boating Accidents
If the operator of a boat was intoxicated at the time of a collision or watercraft accident, that person is liable for injuries caused by their gross negligence. In seeking maximum compensation for your losses, our Texas boat accident attorneys will aid prosecutors in holding the drunk boater fully accountable for his wrongful conduct.